MINISILOS FOR ICE STORAGE AND AUTOMATIC EXTRACTION

In stainless steel
Capacities from 7 to 30 m³
Built with the same characteristics as the standard model, the Minisilo is designed to store and dispense small quantities of ice. The shape and size of Minisilo has been studied for transport by lorry to the installation site almost fully assembled.
SILO COMPOSITION
Cylindrical container – divided into eight panels suitably connected to one another, resting on a raised base, to which the mechanical parts and gearmotors are fixed. The structural work is entirely manufactured in hot-galvanised steel; all parts of the container in contact with the ice and the base plate are made of AISI 304 stainless steel.
Erosion auger – inside the container, located in the lower section.
Extraction auger – outside the container, built to suit customer specifications: subject to request, can be fitted with a mechanism for the distribution and automatic weighing of ice. Standard unloading speed: 6 tonnes/hour. Subject to request, it is possible to order a minisilo with a 12 tonnes/hour or variable (through inverter) unloading speed. Extra dispensing points can be also available.
Electric command and control panel – in addition to any panels with remote command and control features.
Subject to request, the machine can be fitted with a device that allows greater facility of use and better exploitation. This is the: Ice level control system present in the container, which can be mechanical or electronic.
OTHER CHARACTERISTICS
Minisilo assembly and testing must be performed by a member of our technical team. At least three working days should be allowed and the technician should be assisted by at least one member of customer's staff and the machines required to lift the parts of the silo to be assembled.
Models with 2.2-metre diameter can be dispatched fully assembled and do not therefore need to be assembled and tested by a member of our technical team.


MINISILO SECTION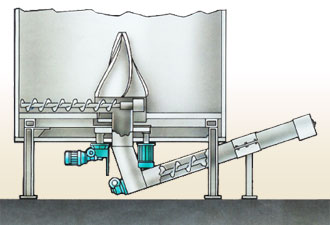 MINISILOS TABLE
TYPE AND CAPACITY IN CUBIC METERS AND TONNES


Type


MG S 7

Type


MG S 11

Type


MG S 15

Dimension in m
Capacity in m3
Capacity in ton.

Ø:2,2 x H:2


7,60 m3
3,80 ton.

Ø:2,2 x H:3


11,40 m3
5,70 ton.

Ø:2,2 x H:4


15,20 m3
7,60 ton.